Ahhhh Milk Paint, how I have feared you! I've looked at and drooled over this stuff for years, but never had the nerve to purchase any, let alone dip a paint brush in it.
Until now.
I have found that Peer Pressure ( or maybe it's just envy) in bloggerdom is a funny thing. It always goes down the same way. I see a pretty color and I am crazy to try it . That's how I wandered into Mason Jar Blue from Junque Boutique. Christy over at Confessions of a Serial DIYer did a wonderful post about this paint, and I lost my mind.
Remember this?
Enter this
Not the frame. See that chopped up spool bed? I've had that thing for over a year. It was a side of the road freebee that I dragged home specifically for the sole purpose of making a bench.
Well, big Daddy finally got around to it!
The internet is loaded with great tutorials about how to make one of these. Mine will not be so detailed, but here goes.
First things first, cut the foot board in half length wise and assess it for the proper seat depth. We had to cut more off of each piece because the first cut made the seat depth way too deep.
Next, screw each cut edge into the headboard at either end. These are your arm rests, so to speak.
Then we cut boards for the seat.
The seat height is also important. Ours is seventeen inches from the ground.
The seat boards were screwed in to the cross braces in multiple spots.
Then all that was left to do was finish painting!
Two things intimidated me in particular about Milk Paint. One was the mixing of it. This was trial and error. I found that it mixes best with a fork, believe it or not. Using a fork also gave me a lot less lumps. You just mix it alot like you are beating eggs in a bowl, only ALOT more carefully! I also learned it thickens up fast. So mix it slightly thinner than you actually want and let it sit for a bit.
Then I finished it off with something new to me.
Hemp Oil!
I. Love.This. Stuff.
I may NEVER wax again.
And here's what we got!
The other thing that I was intimidated about was the chipping. This it completely and totally out of your control.
And I love it!!
It will not bother me one bit if it comes home with me at the end of the day.
Paige
Sharing at
http://www.funkyjunkinteriors.net
http://www.joyinourhome.com
http://www.commonground-do.com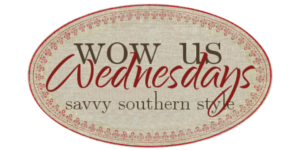 <a href="www.savvysouthernstyle.net" target="_blank"><img src="http://i1212.photobucket.com/albums/cc454/pianoprincessdesigns/buttonone_zps78e61b85.png~original" alt="Savvy Southern Style" width="125″ height="125″ /></a>
http://www.elizabethandcovintage.com/?m=1
http://www.homestoriesatoz.com
http://mobile.homeremediesrx.com/#2990
http://www.astrollthrulife.net/?m=1
http://www.stonegableblog.com
http://www.thededicatedhouse.com/?m=1
http://linda-coastalcharm.blogspot.com/?m=1
http://www.thoughtsfromalice.com
http://www.thepainteddrawer.com
http://www.restylerelove.com
http://shabbynest.blogspot.com
http://www.thededicatedhouse.com
http://www.findingsilverpennies.com
http://www.karensuponthehill.com