I had been eyeing a really cute lamp at my Salvatiion Army for two weeks. The shade was of no interest to me but the base was really cool!
Yep. A pineapple lamp. The Southern symbol for Hospitality. Not really my thing, per say but it got my CRAZY turning.
There's a Country song in there somewhere.
I think I've told y'all this before but my SA has a color-coded system. Every week a different color price tag is half price. This week is yellow, the same color as the tag on the pineapple lamp. The original price was $2.99. An awsome deal, I don't care who you are. But this particular week it was stellar!
$1.50!!
So at 9:00 pm (my bedtime ) last night I could not stand it! I went out to the garage , in my feety pajamas and dug out some paint I've had for some time and NEVER used.
And I have NO idea why.
Painting a lamp base at nine o'clock on a work night in her feety pajamas. Doesn't everybody do that? Just our specific brand of Crazy.
So then at 9:45 I began to play.
In my new dining room!
The chalk paint I got at Michael's with a 40% plus an extra 20% off about eight months ago.
The color is called Relic. The paint was originally $8.99. Do the math .
It still adds up to Dumb Girl. I think I never used it because I thought it was too blue.
Oh. My.
I really need to be building a May Market pile.
I know this.
But I am sooooo in love with this dining room I am finding it VERY hard to concentrate on much else.
Is that wrong??
The shade I found at Ross Dress For Less. It is a lined linen shade and I got it for $9.99. I have really great luck on lamp shades at that store. Not on much else, for some reason.
I truly meant to paint over the Relic with Old White then very gently distress a bit to bring out those little diamonds of the pineapple. And I still may but I'm loving this charcoal color! And right now I am also digging the chalky matte finish. I may not even wax it.
One more for the road
Doing the Happy Dance!
Paige
Sharing at
http://thecrownedgoahttp://www.hopestudios.blogspot.com/2015/04/tutorial-tuesday.html?m=1t.com/wordpress/something-to-talk-about-link-party-11/
http://www.stonegableblog.com/the-scoop-164/
http://betweennapsontheporch.net
http://www.astrollthrulife.net/?m=1
http://diyshowoff.com/2015/04/06/that-diy-party-22/
http://shabbynest.blogspot.com/2015/04/frugal-friday.html#more
http://www.craftberrybush.com
http://www.funkyjunkinteriors.net
http://www.commonground-do.com/2015/03/share-your-style-6-spring-blog-hop.html?m=1
http://www.thededicatedhouse.com/2015/03/before-after-wednesday-week-43.html?m=1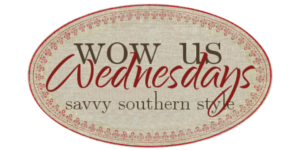 <a href="www.savvysouthernstyle.net" target="_blank"><img src="http://i1212.photobucket.com/albums/cc454/pianoprincessdesigns/buttonone_zps78e61b85.png~original" alt="Savvy Southern Style" width="125″ height="125″ /></a>